Imagine the thrill of gliding along crystal-clear waters, surrounded by awe-inspiring landscapes and the gentle rustle of the wind in the trees. Can you picture it? That's the magic of canoeing, kayaking, and paddling! In Lieksa, you can unleash your inner adventurer and discover the beauty of nature in a whole new way. You'll be amazed by the diverse waterways that lie waiting for you, from tranquil lakes to thrilling rapids. Whatever your skill level or interests, there's a paddling route that's perfect for you.
But it's not just about the adrenaline rush or the picturesque scenery. Paddling also offers a unique opportunity to connect with nature, disconnect from the hustle and bustle of daily life, and recharge your batteries. It's a chance to escape to a world where the only sounds are the gentle splash of your paddle and the chirping of birds. With so many different paddling experiences to choose from, you can customize your adventure to suit your preferences.
So, whether you're an experienced kayaker or a novice just starting, there's no better time to get out there and experience the wonders of paddling. With kayaking services and paddling trips available, the possibilities are endless. Don't wait any longer, grab your paddle, and let the adventure begin!
Limitless possibilities await on Lieksa's versatile waterways
Embark on a journey of discovery and explore the versatile waterways of Lieksa. Whether you're an experienced kayaker seeking thrills on challenging rapids or a beginner looking for a relaxing paddle on calm lakes and rivers, there's an adventure waiting for you. The sound of water flowing, the sun shining on your face, and the freedom of being on the water – it's an experience like no other.
For the thrill-seekers, imagine rafting down wild white waters with the wind in your hair and the adrenaline pumping through your veins. Or maybe you prefer to take it easy and enjoy the tranquility of a shady river bank, casting your line and catching your dinner. With the right equipment and conditions, paddling is an activity for almost everyone.
Bring your family along and make memories that will last a lifetime. A canoe or kayak can easily carry your whole family's gear on a longer trip. And don't forget to take advantage of the maintained outdoor break areas and services offered by municipalities and recreational associations. End your day with a delicious outdoor meal cooked over a campfire, surrounded by the beauty of Finnish nature.
So, what are you waiting for? Let the water be your guide and discover the endless possibilities that Lieksa has to offer.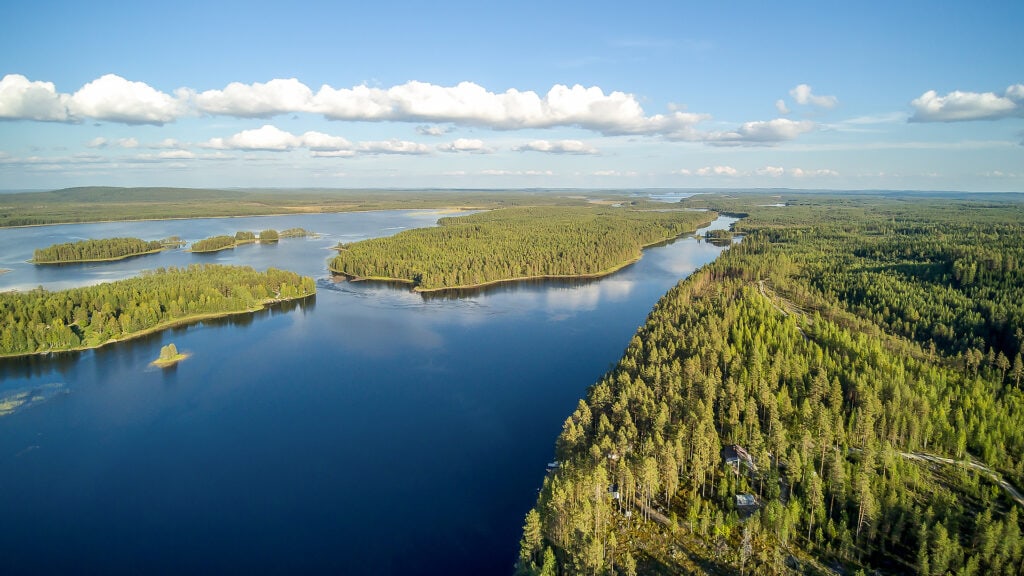 Experience the tranquility of kayaking on calm rivers and lakes
A slow-flowing river kayaking on a calm day is the perfect choice for those who want a relaxing and peaceful experience. This type of kayaking takes place on calm and slow-moving rivers, which provide a tranquil atmosphere that's ideal for unwinding and taking in the natural surroundings. It's suitable for beginners and experienced kayakers alike, as the calm waters make it easy to navigate and enjoy the scenery.
For beginners, the best environment to learn is a quiet inland lake. Lake kayaking is a popular option for those who want a peaceful kayaking experience. Lakes offer flat and calm waters, which are perfect for leisurely kayaking at a slow pace. This type of kayaking is also suitable for beginners, as it's easy to navigate the flat waters of the lake. Lake kayaking is a great way to enjoy a day out with family and friends, as well as to get some exercise and take in the beautiful scenery.
Discover the magnificent beauty of Lake Pielinen
Experience the tranquil beauty of Lake Pielinen. While it's true that Lake Pielinen's fast-changing conditions and big waves can pose a challenge, you can take advantage of the serene evening and night-time conditions to navigate the lake with ease and safety. For a shorter, but equally breathtaking experience, embark on a paddling tour from Lieksa harbor or Timitranniemi. Follow the gentle River Sokojoki as it meanders its way to Pokronlampi or explore the wonders of Lieksanjoki River as you paddle your way towards the hydropower plant.
Traversing the serene waters between Koli and Lieksa in a canoe, and taking the time to pause and spend the night on the islands, can be a deeply introspective experience. The vastness of the calm waters can evoke a profound sense of humility, reminding you of your own smallness in comparison. Camping sites on the Pielinen islands are available for all, provided that you respect the Everyman's right. This is an opportunity to immerse yourself in nature and experience a humbling sense of connection with the world around you.
Unveil the wonders of Lake Suomunjärvi with a paddling adventure
Embark on a thrilling adventure to the picturesque Lake Suomunjärvi, nestled amidst the stunning beauty of Patvinsuo National Park. This breathtaking lake, with its sandy beaches, is the perfect destination for an unforgettable multi-day paddling and camping trip. Start your journey at the Suomu Nature Hut, where you can rent canoes and gear up for an experience of a lifetime. In early summer, when the water level is high, take on the challenge of paddling from Lake Suomunjärvi to the meandering Suomunjoki River that follows the border of the park.
Dive into the thrilling world of white water rafting
Get ready for the ultimate adventure on the roaring rapids! If you're a seasoned paddler looking for a thrilling and heart-pumping kayaking experience, white water rafting is just for you. Challenge yourself on fast-moving rivers, navigate through rapids, and overcome obstacles in the midst of nature's raw power. This adrenaline-fueled adventure is not for the faint-hearted, but for those seeking a sense of accomplishment and a rush of excitement. Share the fun with friends and family as you take on the rapids in a group, creating unforgettable memories that will last a lifetime. Are you ready to take on the challenge and conquer the rapids?
The Ruunaa rapids of the Lieksanjoki River are an unforgettable experience
The exhilarating thrill of white water rafting draws in countless visitors to Ruunaa. There are various ways to navigate the rapids, from a wooden boat helmed by a coxswain to an inflatable dinghy powered by paddles. For the more daring, tackling the rapids on a canoe or loggers' raft is an option, but it requires proper gear and expertise to handle the challenges of the most turbulent waters. However, those without any previous experience can enjoy paddling on the calm lakes situated between the rapids. White water rafting in a wooden boat is suitable for all ages, even for those with mobility issues.
The sheer excitement and speed of a white-water adventure is something truly unforgettable. As you get closer to the rapids, you can hear the roaring of the water and feel its incredible power. After an intense day of white-water rafting, you will be left with an exhilarating sense of satisfaction and a newfound respect for the incredible forces of nature.
Admire the changing scenery of Ruunaa and Lieksanjoki River
The beauty of Ruunaa is defined by the Lieksanjoki River which winds its way through the area. The river boasts thrilling rapids that eventually lead into serene lakes. Along the riverbank, you can marvel at the magnificent pine heaths, which are sometimes complemented by colorful deciduous trees that add to the scenery as the seasons change.
Originating from Russia, the Lieksanjoki River traverses the stunning Ruunaa Hiking area, covering approximately 100 km before culminating at Pankakoski. The rapids on this stretch of the river are both challenging and awe-inspiring, with an elevation difference of almost 16 meters between the first upstream rapids, Paasikoski, and the last downstream rapids, Siikakoski. Experienced kayakers and canoers can attest to the rapids' difficulty, and during the spring floods (mid-May to early June), they are at their most impressive.
Discover the stunning Jongunjoki river route
Embark on a journey through the Jongunjoki River route, where wilderness and adventure await. The rush of adrenaline will take over as you navigate through the many fast sections, feeling the thrill of the rapids. With an impressive vertical drop of 80m, the stunning landscape will leave you breathless. Whether you choose to start from Teljo bridge to Aittokoski or from Aittokoski to Viitakoski, each one offers unique experiences. Fear not, for with preparation comes safety. Take the time to scout out the rapids before you paddle over them, allowing you to fully enjoy the incredible journey ahead.
Explore the wonders of kayaking, whether a beginner or an experienced adventurer and discover the thrill of the water
For those who are new to kayaking, there is a multitude of options to get started on this exciting activity. Kayaking services provide beginner kayaking lessons that teach fundamental kayaking techniques and safety measures. With these lessons, beginners can build up confidence and gain the necessary skills to kayak independently. Additionally, several outdoor service providers offer canoe and kayak rentals as well as guided paddling trips, providing a great opportunity to explore the waters while under expert guidance.
For experienced kayakers, there are more advanced options to challenge their skills and enhance their kayaking experience. Such options include white water rafting or kayaking trips to more remote and difficult locations. These experienced kayakers may also choose to invest in their own kayaking equipment, allowing them to personalize and tailor their kayaking experience to their individual preferences.
Embark on an unforgettable adventure with exhilarating kayaking services and trips
For those with limited canoeing experience, a guided paddling trip with an outdoor service provider in the area may be the perfect solution. Kayaking services are readily available for individuals who lack their own kayaking equipment or prefer a guided kayaking experience. Such services offer rentals for kayaks, life jackets, paddles, and other necessary equipment, providing a wide variety of options to choose from.
In addition, many service providers offer guided tours or lessons for those who are new to kayaking or seeking to improve their skills. Kayaking services can be a great way to try kayaking without making a significant investment in your own equipment.
Kayaking trips can offer an unforgettable experience, taking you to some of the most beautiful and remote parts of the world. These trips may vary in length from a few hours to several days and can include camping or other outdoor activities. Experienced guides lead these kayaking trips, providing valuable insight into the natural surroundings and assisting with navigating challenging waters.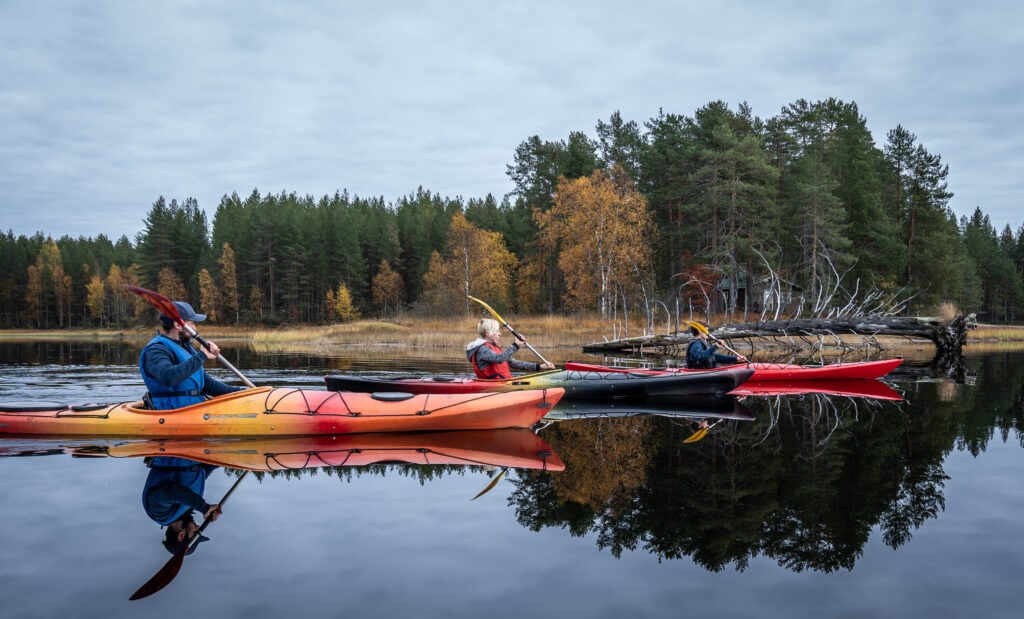 Experience peace of mind and ensure your trip is both pleasant and safe
Paddling is generally a safe and low-risk hobby, with serious accidents being rare occurrences. Nonetheless, it is essential to be mindful of the risks and specifics of paddling when planning and embarking on a trip. An absolute minimum requirement for starting paddling is a good swimming ability, and even experienced paddlers must wear a personal flotation device to ensure they stay afloat if they fall overboard.
Safety is the top priority, starting with the planning phase and ensuring the right gear is packed. It is important to assess your own skills and fitness level, the features of the waterway, and the weather forecast in advance. Unexpected weather changes, low mobile network coverage, and other factors can all cause surprises, making it crucial to remain aware of potential risks at all times. In Finland, summer weather can be unpredictable, so always check the forecast before setting out.
For longer paddling distances, thorough planning is crucial. Canoe routes are typically not marked, and islands or lakeshores are not signposted. Therefore, carrying a map, compass, and knowing how to use them is essential.
In Lieksa, renting equipment or booking a guided kayaking or canoeing tour with an experienced guide is a great option for those who want to ensure a pleasant trip. Proper equipment guarantees a comfortable and safe experience.
Everyman's right
Everyone, including both locals and tourists, has the opportunity to enjoy nature in Finland. However, with this privilege comes a set of responsibilities. Everyman's right specifies what activities are permissible and what are not. Additionally, protected areas have their own set of guidelines and restrictions, which it's wise to research beforehand. Familiarizing yourself with Everyman's right and waterway regulations is essential, as it outlines your rights and responsibilities when navigating Finnish nature and waterways.
Discover the limitless possibilities of kayaking, canoeing, and paddling! Whether you're a seasoned pro or a curious beginner, there's an adventure waiting for you. Immerse yourself in the tranquility of calm river kayaking or embrace the thrill of white water rafting. The outdoors is yours to explore, and with kayaking services and trips readily available, the experience has never been easier.
As an environmentally conscious and affordable activity, canoeing offers a perfect escape for all ages and abilities. In Finland, a country known for its thousands of serene lakes and meandering rivers, the opportunities for canoeing are endless. With paddling, you can venture into untouched landscapes and witness nature from a whole new perspective. And the best part? You can enjoy these experiences in the company of like-minded adventurers who share your passion.
So why wait? Come and experience the thrill and beauty of Lieksa and its surroundings, as you paddle through the sparkling waters and create memories that will last a lifetime. Choose the conditions that suit your skills and abilities, and let the beauty of nature guide you towards truly unforgettable experiences.
—
Discover the abundant opportunities and exceptional services that Lieksa has to offer! Let your curiosity guide you as you explore the diverse range of options available, tailored to meet your unique needs and preferences.
Whether you're traveling solo or with a group, the tourist information centers in Lieksa and Koli are the perfect resources to help you unlock the full potential of your adventure. Don't hesitate to ask for more information!
Lieksa City Tourist Information Centre
Pielisentie 3, 81700 Lieksa
+358 40 1044 680
Koli
Tourist Information
Ylä-Kolintie 2, 83960 Koli
+35845 1387 429
Let us cater to your every travel need. Inquire about our carefully curated travel packages and personalized transport services, tailored to suit you or your group's unique preferences and requirements. Contact us via the form below and we will be happy to help!