Are you an avid fishing enthusiast or a beginner looking to dive into the fishing world? Look no further! Lieksa is a captivating haven for all types of anglers. Whether you're travelling with your family, or a group of friends, or embarking on a solo expedition, Lieksa has something to offer everyone. Located in the heart of North Karelia Finland, this region boasts abundant lakes and rivers, ensuring endless fishing opportunities for all. One of the best things about fishing in Lieksa is that it is accessible to everyone, regardless of their experience level.
You can go fishing all year round in Lieksa. Fishing in Lieksa is a unique experience as the region has a vast network of lakes and rivers that are home to a variety of fish species. Whether you are looking to catch salmon, trout, pike, or perch, you are sure to find something that will keep you occupied for hours. In fact, the lakes of Lieksa are home to some of the biggest pike in the whole of Finland, making it a popular spot for serious anglers.
Best places to go fishing in Lieksa
There are countless lakes, rivers, and ponds that offer opportunities for fishing all year round in Lieksa. Here are listed a few amazing fishing spots that we would highly recommend for a great fishing experience!
Musta Mäntyjärvi
A unique feature in Lieksa is the lake of big pikes called Musta Mäntyjärvi. This magnificent lake is renowned for its enormous pike population. But don't worry, the fishing practices here are responsibly managed, ensuring the well-being of the fish population while still providing an exciting and rewarding angling experience.
The rapids of Ruunaa
The rapids of Ruunaa attract fishermen year after year to try their luck in the midst of the foaming rapids.
In Ruunaa, both beginners and professionals can fish on their own or spend time with friends or family. Neitikoski has an accessible route that allows fishing by the rapids for those with strollers or wheelchairs.
What could be better than an evening by the campfire, enjoying the freshly caught fish? At the same time, you can also experience rafting and hiking on the versatile trails of Ruunaa! Read more and get the fishing permits here.
Lake Pielinen
The fourth largest lake in Finland, Pielinen, is a wild and diverse destination for fishermen. Imagine yourself gliding through the pristine waters of Lake Pielinen, indulging in the thrill of trolling for the catch of a lifetime. The shimmering waves and picturesque surroundings create the perfect backdrop for your fishing escapades.
Photo: Visit Karelia
Pielinen is a great place for trolling and ice fishing in winter. Naturally occurring fish species in Pielinen include perch, pike, whitefish, grayling, and trout, whereas planted species include lake salmon, lake trout, and arctic char. The islands of the Pielinen are good places to take a break and spend the night in a boat. There are also cottage and hotel accommodations on the shores and islands of Pielinen, so you can spend a longer fishing holiday on the water.
Änäkäinen
The scenic Änäkäinen is a hidden gem nestled in the heart of Lieksa. Prepare to be captivated by the untouched beauty of this pristine fishing destination!
The Änäkäinen fishing area is located on pine-covered ridges along Kivivaarantie road. Ponds and lakes dot the area, and the line of armoured stones from the Salpa Line gives the area a historical atmosphere.
In addition, the lakes and ponds offer catches of large perch and pike. Trails and rest areas make for a nice destination for a family fishing trip. Fishing in Änäkäinen isn't just about the catch—it's about the experience.  Surround yourself with the awe-inspiring beauty of the Finnish wilderness as you patiently wait for your next big catch. The tranquillity of the surroundings will transport you to a state of pure relaxation and serenity.
Lieksa River
If you prefer a more adventurous experience, try your hand at river fishing, where you can challenge yourself against the swift currents and cunning trout!
The river of Lieksa is part of the Vuoksi water system and flows into Lake Pielinen, mainly drawing its water from the Russian side of the eastern border. The fishing permit area for the Lieksa River is extensive and offers the possibility of catching pike-perch, whitefish, ide, pike, and perch.
Suomunjärvi
The beautiful sandy beach of Suomunjärvi offers a great place for both hiking and fishing. In Suomunjärvi, you can fish for vendace, whitefish, and large perch, among others. Suomunjärvi is located within the Patvinsuo National Park, so it is recommended to check the permit policies in advance.
If solitude and tranquillity are what you seek, immerse yourself in the serene beauty of Lieksa's wilderness lakes and ponds. These untouched gems offer a peaceful retreat, allowing you to connect with nature and rejuvenate your soul. Cast your line into the crystal-clear waters, and let the calming sounds of nature be your companion.
Unforgettable fishing experiences
Whether you are a seasoned angler or a beginner, there are plenty of opportunities for you to catch fish. You can choose to fish from the shore, rent a boat, or even hire a guide who can take you to the best spots to catch fish. We understand that planning a fishing trip can be daunting, especially if you're unfamiliar with the area. That's why Lieksa's knowledgeable tourism entrepreneurs are there to assist you every step of the way.
From guiding you to the best fishing spots to helping you obtain the necessary permits, their expertise ensures a seamless and unforgettable fishing experience. And for the icing on the cake, some even specialize in preparing mouthwatering dishes using your freshly caught fish, transforming your bountiful catch into a delectable feast!
If you are new to fishing, the local fishing guides in Lieksa can help you get started. They can provide you with all the necessary equipment and teach you how to cast a line and reel in your catch. You can also learn about the different fish species in the area and their habits, which will help you to target them more effectively
Relax in the natural environment
For those who prefer a more relaxed fishing experience, Lieksa also has a variety of accommodation options that are perfect for anglers. You can choose to stay in a cosy cabin or a lakeside cottage, where you can fish right from your doorstep. Many of these accommodations also come equipped with boats or canoes, which you can use to explore the lakes and rivers of Lieksa and discover the untouched beauty by canoeing, kayaking or paddling in the lap of nature's blue lakes and rivers.
Lieksa has a lot of other outdoor activities to offer. You can for example go hiking, biking, or mountain biking. The area also has several national parks, such as the Patvinsuo National Park, which is a must-visit for nature lovers. You can read more about springtime activities in Lieksa from our previous article here.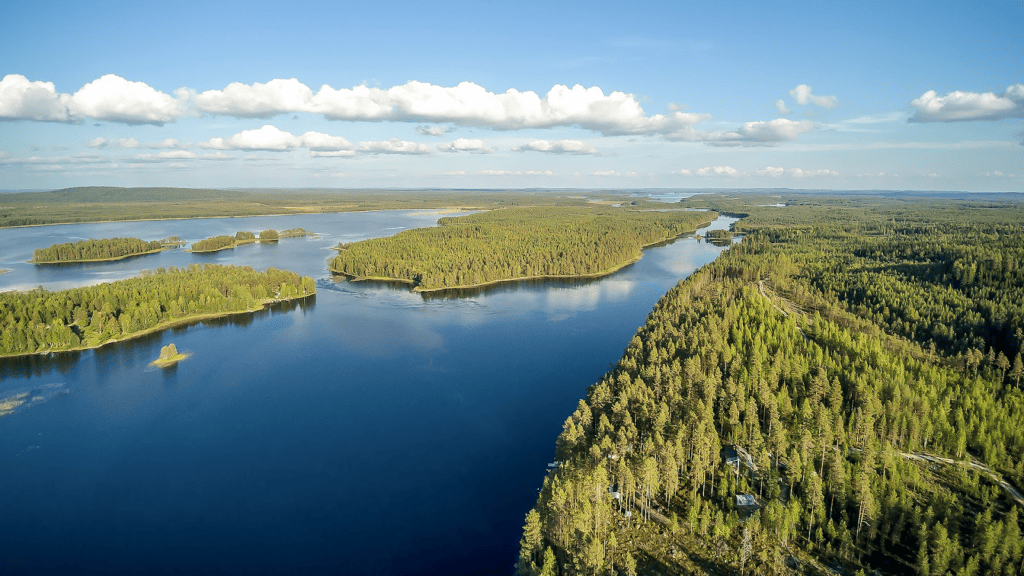 Please note, that In Finland, we all have the right to enjoy nature and a duty to take care of it. "Everyman's rights" determine what one can and cannot do in nature. In addition, protected areas have different regulations, which it is advisable to familiarize oneself with in advance.
In conclusion, fishing in Lieksa is an excellent way to experience the natural beauty of Finland and enjoy some of the best fishing opportunities in the country.
Don't miss the opportunity to embark on an unforgettable fishing adventure in Lieksa. With its diverse fishing options, breathtaking landscapes, and exceptional hospitality, this destination is a true angler's paradise and should be added to your bucket list. So, back your bags and book your trip today and get ready to create lifelong memories in the Finnish fishing haven of Lieksa!
—
Discover more information
Please familiarise yourself with Fishing permits and Everyman's rights before starting your fishing adventure.
Let us help you with your travel needs! Inquire about our carefully curated travel packages, fishing adventures and personalized transport services, tailored to suit you or your group's unique preferences and requirements. Contact us via the form below and we will be happy to help!